Why are currently working? Everyone should view their work life as the survival of the fittest. For some people, this is in the form of vigorous and constant competition with themselves or other people. Longevity is a reason many people work, as well. The term "work-to-live," is a great representation of this. Why not out yourself in a space where you can figure out when you can retire? cFIREsim is an open source program that allows the user to accurately calculate their retirement.
On average, people work about 50 years of their life. But if you are able to cut that number short with retirement you should definitely try to. There are plenty of programs you can use on the market, so what is special about cFIREsim? Absolutely nothing. It is a simple program that allows you to do all the basics.
So, should I just close the window, now?
Although it is a basic program it has one defining quality; it is free. Sure, there are plenty of other programs that you could probably find that so the same thing. However, in the case of this one, it is jam-packed with a lot of features and little gems that you have your disposal. One of the most entertaining, and the most confusing in fact, is the graph.
The graph runs simulation cycles with the information that you log and shows you the best time to retire in the near future. What is interesting about the simulator is how far is goes back. After you plug in your figures you can see how well you were in 1865. Although it is discouraging to see that your financial life would be better in the 19th Century. cFIREsim has everything you need in one place. Even if it is confusing to use.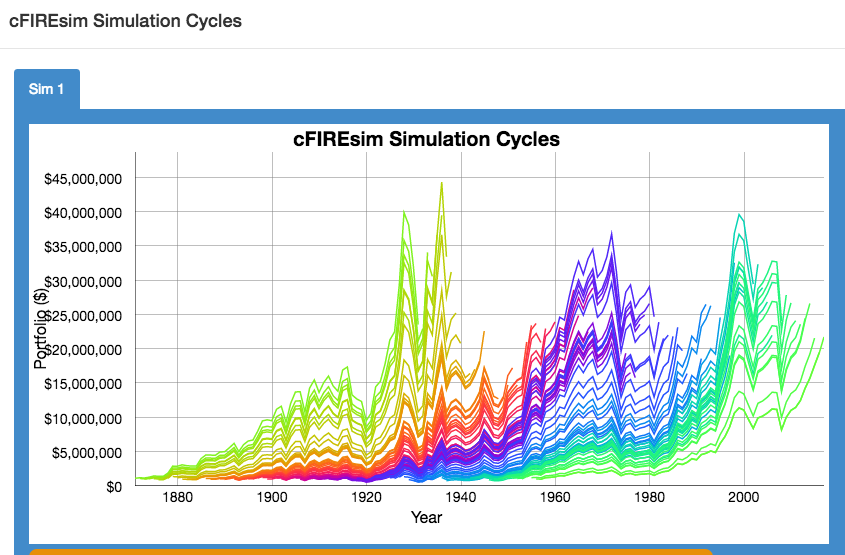 Troubleshooting and much more trouble shooting.
There is a learning curve when using the program, but you should be able to figure everything out. If you have the patience to find everything in the tutorial, that is. Okay, the tutorial is not the hardest thing to understand, but there are some areas that are lacking. For one, we all know everyone hates finance. We love money, but finance is worse than dry toast.
The tutorial page could have done with a video or two to make it a little more appealing. You are sort of thrown into the mix and have to wade through the stuff you do not need. This is prevalent in many open source programs. Unless you are a tech whiz, or like this writer has the patience to learn, you really will not want to use it more than once. Why do it yourself when you can find someone at your local bank that can do it for you?
Verdict?
We work so that we are able to rest in the future. We work for retirement, it will take some of a lifetime to achieve. Some may work until their hands become stiff with carpal tunnel until their last breath. Being able to calculate when we might be able to go fishing makes everything better. cFIREsim may be the tool you need to start working toward your future.